See a physician, nurse practitioner or physician assistant within minutes, using your computer, phone or tablet.
To use Doctors Care Anywhere on your phone or tablet, download our app:
To use Doctors Care Anywhere on your computer:
Start a Virtual Visit in your Browser

Simply set up an account, list your symptoms, and see a medical provider from the comfort of your home, office or anywhere!
Treatment for many common medical conditions and select primary care services are available for individuals physically located in South Carolina.
We are also able to help with behavioral and mental health issues, such as stress, anxiety, insomnia and depression. Mental and behavioral health options are available only for patients age 18 and older.

Our quick and convenient virtual urgent care visits can be filed to your insurance. Workers' Compensation insurance is accepted.
No insurance? No problem. We have a self-pay option available, too.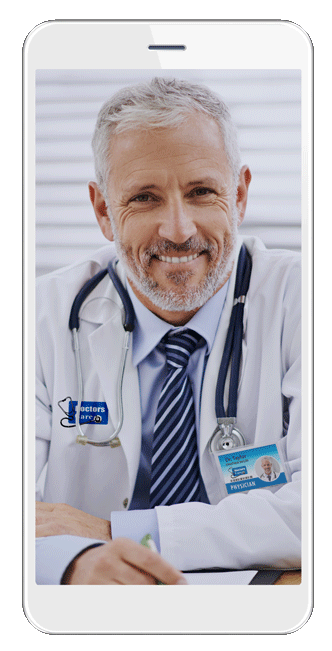 Our qualified medical providers are able to treat a wide range of common ailments through our virtual urgent care platform. In addition, they can assist with select primary care services and some behavioral and mental health issues. We provide treatments for:
Coronavirus Testing and Care
Oral COVID Treatment
Flu and Colds
Cough, Runny Nose
Sinus Pain or Pressure
Sore Throat
Cold Sores
Migraine Episodes
Minor Abrasions
Acne or Skin Rash
Seasonal Allergies
Poison Ivy / Oak / Sumac
Insect Bites / Jellyfish Stings
Workers' Compensation
Workplace Injuries
Smoking Cessation
Sunburn
Swimmer's Ear
Pink Eye
Ringworm
Epi-pen Refills
Asthma Inhaler Refills
Prescription Refills*
Bladder or Yeast Infection
Urinary Tract Infection (UTI)
Emergency Contraception
Herpes
STD Exposure
Hypertension (High Blood Pressure)
Type 2 Diabetes
Cholesterol Management
Thyroid Issues
Gastresophageal Acid Reflux (GERD)
Preventive Care
Mental and Behavioral Health†
Stress
Insomnia
Anxiety
Depression
* Our providers do not write prescriptions for narcotics, lifestyle medications such as Viagra and Cialis, appetite suppressants for weight loss, or mood altering medications.
† Mental and behavioral health options are available for patients 18 and older. Our providers do not treat patients for ADHD, but can refer you to a specialist for a consultation.
If you are experiencing an emergency, please call 9-1-1.
Convenient care wherever you are.
Doctors Care Anywhere is available
Monday – Friday: 8 a.m. to 8 p.m.
Saturday – Sunday: 9 a.m. to 5 p.m.
Frequently Asked Questions