Coronavirus (COVID-19) Testing and Information
News and updates regarding Doctors Care and coronavirus (COVID-19).
Diagnostic Testing and Specimen Collection
General Coronavirus Information
The virus is thought to spread mainly from person-to-person.
Between people who are in close contact with one another (within about 6 feet).
Through respiratory droplets produced when an infected person coughs or sneezes.
These droplets can land in the mouths or noses of people who are nearby or possibly be inhaled into the lungs.
The best way to prevent illness is to avoid being exposed to this virus. Practice social distancing to limit your exposure risk.
Source: https://www.cdc.gov/coronavirus/2019-ncov/prepare/prevention.html
These symptoms may appear 2-14 days after exposure (based on the incubation period of MERS-CoV viruses).
Fever
Cough
Shortness of breath
For non-emergency cases, visit www.DoctorsCare.com/Anywhere for virtual care.
If you develop emergency warning signs for COVID-19 get medical attention immediately by dialing 9-1-1. Emergency warning signs include*:
Trouble breathing
Persistent pain or pressure in the chest
New confusion or inability to arouse
Bluish lips or face
*This list is not all inclusive. Please consult your medical provider for any other symptoms that are severe or concerning.
Clean your hands often
Wash your hands often with soap and water for at least 20 seconds especially after you have been in a public place, or after blowing your nose, coughing, or sneezing.
If soap and water are not readily available, use a hand sanitizer that contains at least 60% alcohol. Cover all surfaces of your hands and rub them together until they feel dry.
Avoid touching your eyes, nose, and mouth with unwashed hands.
Avoid close contact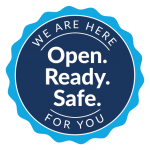 Find out how we are protecting our patients and our staff from exposure to COVID-19.
Think you might have COVID-19?
If you are experiencing an emergency, please call 9-1-1.