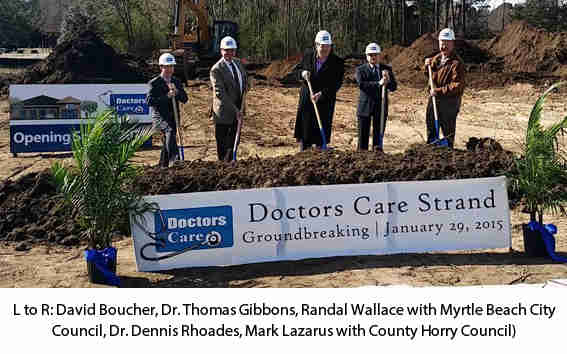 Myrtle Beach, S.C. – Members of the UCI Medical Affiliates and Doctors Care senior management teams, medical staff from Doctors Care Strand, local city and county government officials and representatives from Kahn Construction broke ground on a new, state-of-the-art medical center on Thursday, January 29, 2015. The 11 a.m. groundbreaking ceremony was held across the street from the current facility at 1221 21st Avenue North, where the new Strand location will be built, and included the ceremonial turning of the earth at the construction site.According to David Boucher, UCI Medical Affiliates president and chief operating officer, the Strand urgent care center is an important asset to not only Doctors Care, but also the existing community.
"With this new state-of-the-art building, that will be over 7,000 square feet when finished, we're making a significant investment in our employees and the residents and guests of this area — because this region is vital to our overall success, and we plan to support it as best we can."
Dr. Thomas Gibbons, president of Doctors Care, also added that the center would not be where it is today without the hard work of the physicians and staff and the excellent leadership of the regional medical director, Dr. Dennis Rhoades, and Carrie McMakin, the center manager at Doctors Care Strand.
Physicians and staff in the current Strand location will move into the new 7,000 square foot facility at its anticipated opening date in early summer of 2015. Easier access to services and convenient office hours will remain a part of the Doctors Care Strand experience for patients.
About Doctors Care: Doctors Care opened its doors in 1981 as the first minor-emergency medical center in Columbia, South Carolina. Today, Doctors Care is a premier health care organization proudly focused on delivering exceptional urgent care, family care, preventive and occupational health care and specialty services. All locations offer flexible hours — including evenings and weekends — and do not require appointments.