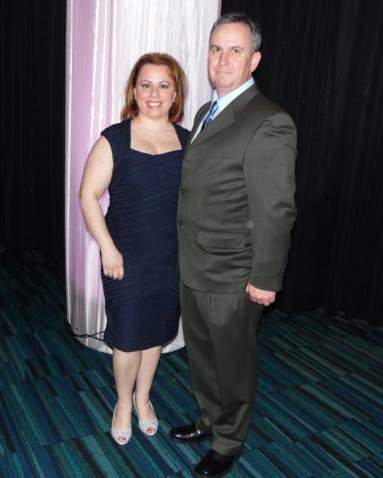 Pictured here: Lisa Duggan and
her fiancé, David Miller.
Columbia, S.C. – Doctors Care is pleased to announce that Lisa Duggan was named one of the state's 100 best nurses by the South Carolina Nurses Foundation. Ms. Duggan is employed as a nurse practitioner at Doctors Care, an urgent care organization that has 51 locations in South Carolina and Tennessee. She is also employed with Clemson University as an assistant professor. Ms. Duggan earned a Master's of Science in Nursing from Clemson University, and received her PhD from the University of South Carolina.
Ms. Duggan along with 99 other distinguished industry professionals received the Palmetto Gold award at a gala in Columbia on March 28. For over 10 years now, The Palmetto Gold Award has recognized nurses for their patient care and commitment. All award recipients are nominated and selected from a pool of nurses from a variety of practice settings across the state.
"It was truly a surprise when I received the letter that, not only had I been nominated, but I had been selected to receive the award," Duggan stated.
"We are very proud of Ms. Duggan and her continued commitment to excellence. She has been an exemplary caregiver in our organization and to our patients for the past 8 years, and we look forward to seeing her continued success," Dr. Thomas Gibbons, president of Doctors Care added.
About Doctors Care: Doctors Care opened its doors in 1981 as the first minor emergency medical center in Columbia, South Carolina. Today, Doctors Care is a premiere healthcare organization proudly focused on delivering exceptional urgent care, family care, preventative and occupational healthcare and specialty services. Most locations offer flexible hours-including evenings and weekends-do not require an appointment.